Hop, Skip & Jump to Excellent Beach! SOLD! SOLD!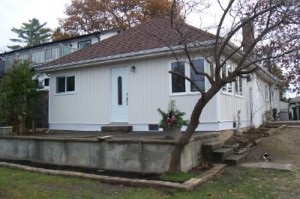 Ref: # 995
Type: Detached
Style: Rectangular
Lot Size: 50 ft x 155 ft
Bedrooms: 3 plus smaller storage/den room
Bathrooms: 1 - 4 piece
Price: $358,000.00
Great Beach Location! Within one block from sandy beach, this charming renovated retreat/home offers 3 bedrooms, 1 -4 piece bathroom, spacious combined kitchen/ dining, and comfortable living room with wood burning fireplace insert. Additional room for storage space, office space. Recent renovations includes majority new windows, new vinyl siding, additional attic insulation, new fireplace insert, some new appliances. Convenient laundry area in the partial basement. Attractive, in a good location, on a good sized lot. Municipal water and sewers to the dwelling. Gas to be connected to dwelling before mid-January (gas wall furnace) Storage/original bunkie building in the rear yard. Centrally located, close to amenities. Walk the beach, watch the sunsets, enjoy life in Wasaga Beach! $358,000.00 #995 SOLD SOLD!